Ethical issues in research using social media
Resources on the ethics of social media research
Guidance from UKRIO
From elsewhere
What is "social media data"?
Does it mean Facebook, Instagram, Twitter, blog sites, etc., i.e. a platform that needs a user name?
Social media definitions vary, but core components are user-generated content and the possibility of many-to-many communication: Julian Hopkins. How to Define Social Media – An Academic Summary. 2017 http://julianhopkins.com/how-to-define-social-media-an-academic-summary/
Definitions are also described in Aichner, T., Grünfelder, M., Maurer, O., & Jegeni, D. (2021). Twenty-Five Years of Social Media: A Review of Social Media Applications and Definitions from 1994 to 2019. Cyberpsychology, Behavior, and Social Networking. 215-222. doi.org/10.1089/cyber.2020.0134
Guidance
The Ethics Working Committee, from the Association of Internet Researchers, has produced three major reports to assist researchers in making ethical decisions in their research, which can be found here: https://aoir.org/ethics/
A Social Media Ethics Framework from the Glasgow guide is shown below: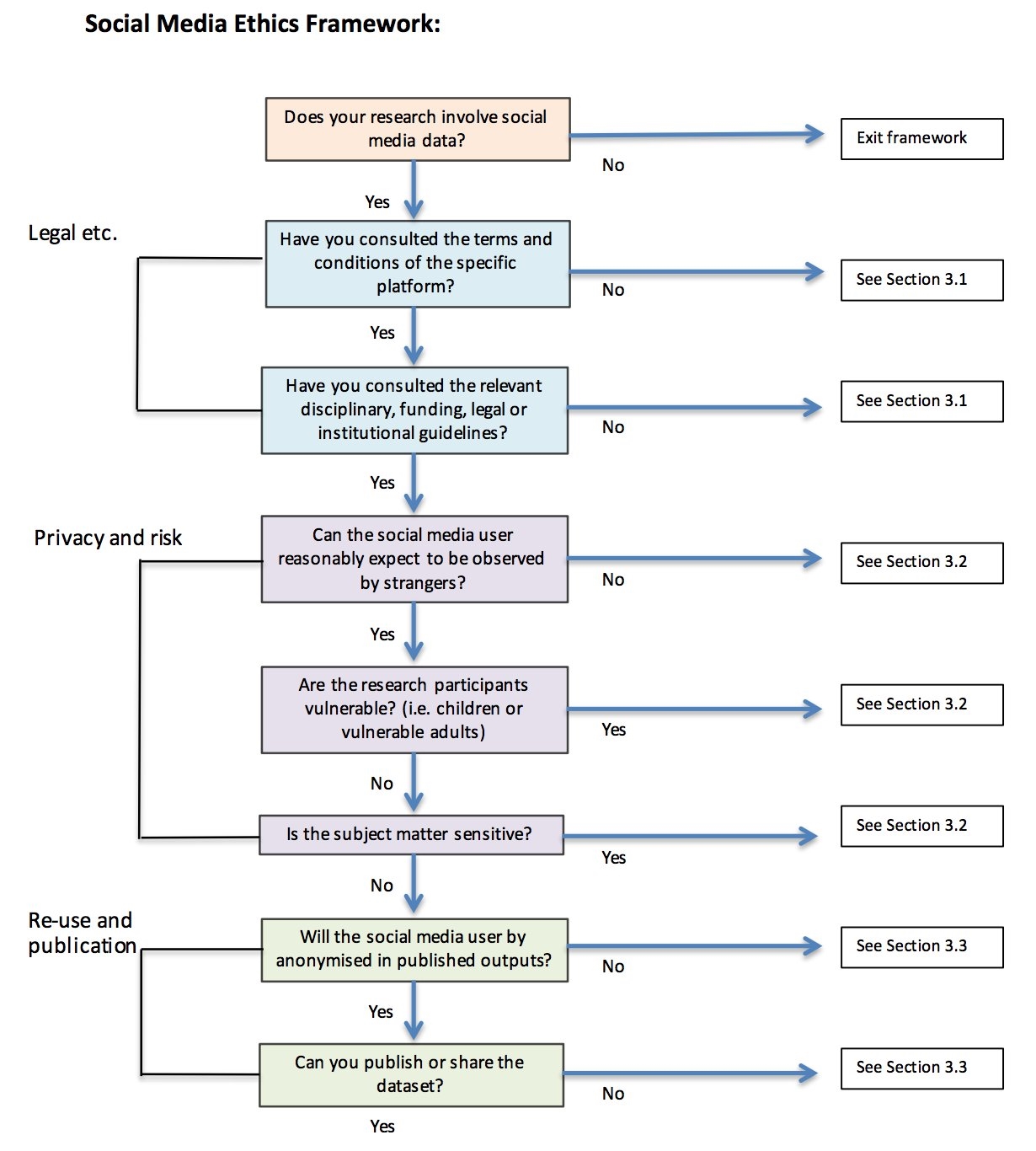 Further reading:
Hemphill, L., Schöpke-Gonzalez, A., & Panda, A. (2022). Comparative sensitivity of social media data and their acceptable use in research. Sci Data. 9(1):643. doi: 10.1038/s41597-022-01773-w
Mahoney, J., Le Louvier, K., Lawson, S., Bertel, D., & Ambrosetti, E. (2022). Ethical considerations in social media analytics in the context of migration: lessons learned from a Horizon 2020 project. Research Ethics, 18(3), 226–240. https://doi.org/10.1177/17470161221087542
Samuel, G., & Buchanan, E. (2020). Guest Editorial: Ethical Issues in Social Media Research. Journal of Empirical Research on Human Research Ethics. 15(1-2):3-11. doi:10.1177/1556264619901215
Samuel, G, Derrick, G.E., & van Leeuwen, T. (2019). The Ethics Ecosystem: Personal Ethics, Network Governance and Regulating Actors Governing the Use of Social Media Research Data. Minerva. Sep;57(3):317-343. doi: 10.1007/s11024-019-09368-3
Takats, C., Kwan, A., Wormer, R., Goldman, D., Jones, H.E., & Romero, D. (2022). Ethical and Methodological Considerations of Twitter Data for Public Health Research: Systematic Review. J Med Internet Res. 2022 Nov 29;24(11):e40380. doi: 10.2196/40380. 
Last revised May 2023.
Please note that this list of resources is not intended to be exhaustive and should not be seen as a substitute for advice from suitably qualified persons. UKRIO is not responsible for the content of external websites linked to from this page. If you would like to seek advice from UKRIO, information on our role and remit and on how to contact us is available here.
UKRIO would like to thank our Advisory Community for their help in putting this list together.