Digital Badge in Responsible Conduct of Research at University College Cork
Research Integrity (RI) is critical to the international research landscape. University College Cork (UCC) is committed to ensuring that the highest standards in Responsible Conduct in Research (RCR) are adhered to within its research community. To embed and foster the principles, key elements and core skills of RI in UCC, a Digital Badge in the Responsible Conduct of Research was developed by combining the diverse expertise available within the Office of the Vice President of Research and Innovation (OVPRI), UCC Library and the Clinical Research Facility – Cork (CRF-C). It is the first of its kind within in Ireland and offers researchers a unique opportunity to address a significant gap in their skills portfolio not addressed formally elsewhere.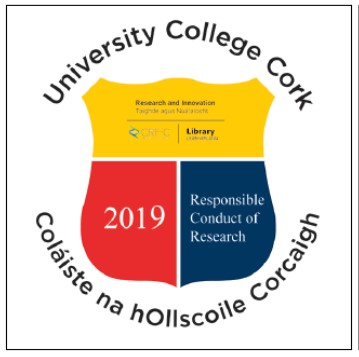 A Digital Badge or micro-credential is way of recognising and rewarding learner effort outside of traditional learning channels within the University. Digital Badges are more flexible because they can be offered to everyone from undergrad to senior staff members. Our Digital Badge in the RCR is multidisciplinary and offered to research teams and groups, it is comprised of three core elements that support responsible research; (1) Research Integrity, (2) Data management and FAIR ( Wilkinnson et. al.,2016 ) and (3) Reproducible Research Practices.
There is an immediate need for a dedicated course on RCR whereby researchers across early, mid and advanced career stages can come together in their disciplinary teams and groups to discuss and debate the key issues in relation to their fields of expertise. The exciting feature of this format is that it encourages a lively exchange of views, experience. From this, groups and teams can develop informed and cohesive strategies to improve their workflows. Our instructors are passionate about the broad area of RI/RCR at UCC and each apply the core elements of the badge to their daily roles. We feel that only a blended learning approach can offer a strong awareness and culture of RI/RCR at UCC. Our Digital Badge is delivered to research groups by;
Providing discipline specific awareness of research integrity issues
Recognition and engagement with initiatives to encourage responsible and reproducible research and open science
Exposure to the tools and resources available towards achieving responsible and reproducible research
When developing content for the Digital Badge the collaboration between OVPRI, UCC Library and the CRF-C really came in to play. It meant we had a wide range of skills and experience to draw from. We took a holistic view and combined the principles of RI/RCR with Data Management and Reproducibility. Our content addresses topical and relevant issues in the current research climate for researchers, institutions, funding bodies, and publishers. It is aligned with the new National Framework on the Transition to an Open Research Environment and will help prepare researchers for the shift in culture and practice that is happening across Europe and Internationally. This we hope is a sustainable approach which will enable researchers to successfully navigate and conduct Responsible Research whilst applying Open Data and Reproducibility practices within their own disciplines.
Completion requires learners to participate in three workshops, complete an online course together with a reflective exercise. A reading list is provided. Through our Digital Badge we are raising awareness of Research Integrity issues within disciplines, we are signalling to funding bodies that researchers have completed training in this area and that it is available to research teams and groups. We intend that this offering will help to grow a research community and research practices that are robust, open, transparent and ready for any future challenges.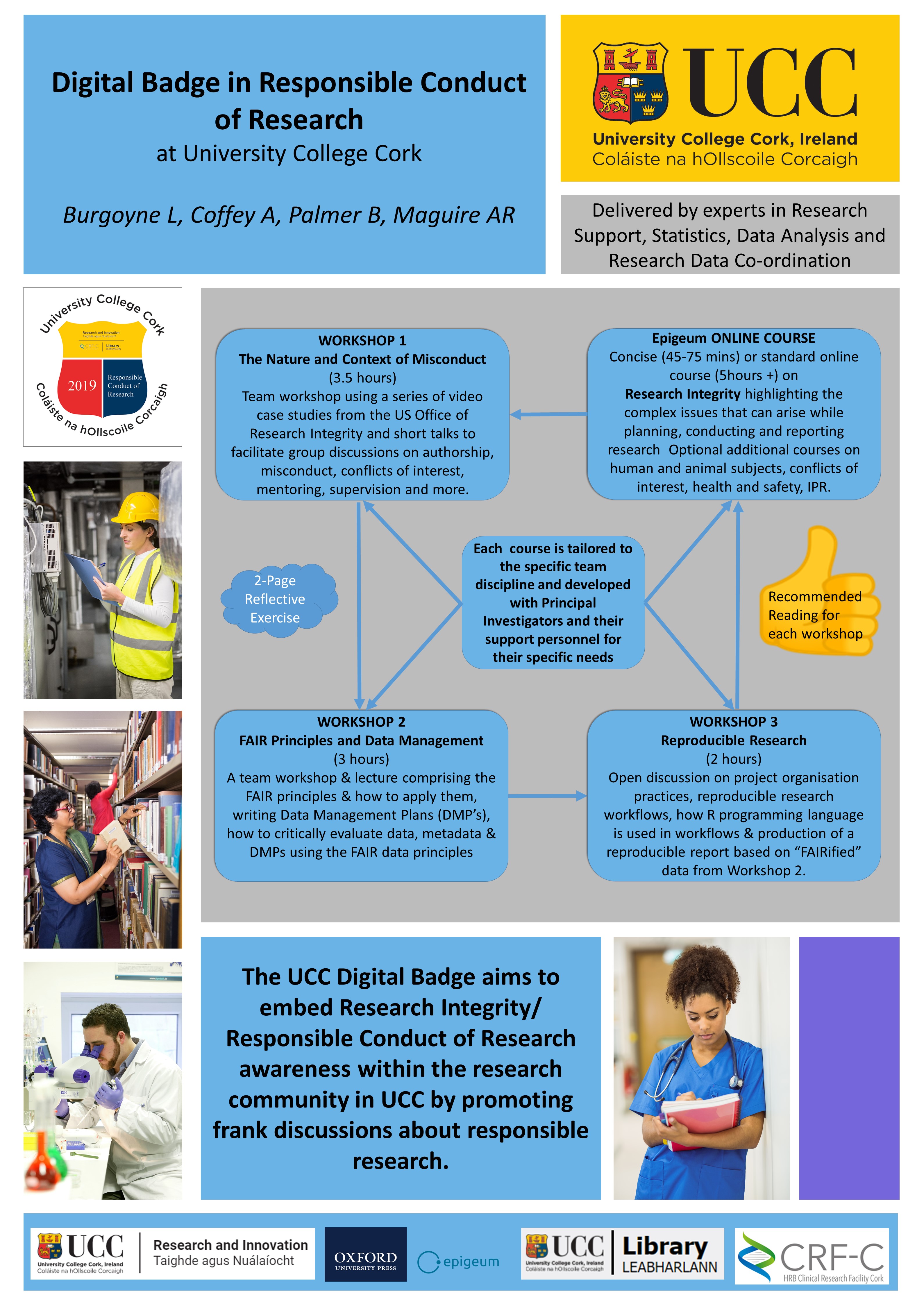 Dr Louise Burgoyne, Research Officer, Office of the Vice President for Research and Innovation, University College Cork
Dr Aoife Coffey, Research Data Coordinator, Research and Digital Services, UCC Library, University College Cork.
Professor Anita Maguire, Vice President for Research & Innovation, University College Cork
Dr Brendan Palmer, Associate Biostatistician, Clinical Research Facility – Cork & School of Public Health, University College Cork (Twitter: @B_A_Palmer)
Further information:
UCC digital badge: https://www.ucc.ie/en/research/support/integrity/digitalbadge/
UCC research integrity: https://www.ucc.ie/en/research/support/integrity/
Guest Blog Disclaimer: UKRIO invites guest bloggers to share opinions and topics relevant to the wider UK research community. The views, opinions and positions expressed within these guest blogs are those of the author alone and do not represent those of UKRIO.  The accuracy, completeness and validity of any statements made within this article are not guaranteed. We accept no liability for any errors, omissions or representations. The copyright of this content belongs to the author and any liability with regards to infringement of intellectual property rights remains with them.