Authorship 2-Week Challenge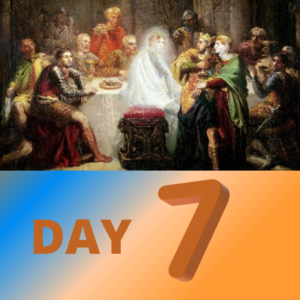 Authorship Challenge – Day 7
Authorship disputes may come back to haunt you! The Ghost of Banquo, 1855
Can reading Shakespeare shed light on scholarly authorship? As you from crimes would pardoned be, let your indulgence set me free.
In A Midsummer Night's Dream, Puck confuses two pairs of young lovers using a potion and chaos ensues until he makes amends. This is a reminder that any relationship, whether academic or romantic, should be agreed by all parties free from coercion. Macbeth, with a little rewriting, could be the tale of an ambitious power couple who tread on colleagues and take false credit until a dispute with a ghost author sees them fall from grace. In Othello, Iago tricks Othello in believing that Desdemona has betrayed him, with tragic results.
Don't be like Othello: discuss any concerns with your collaborators to avoid misunderstandings; "Let thy fair wisdom, not thy passion, sway". Maybe you will see more parallels in his other works.
The authorship of Shakespeare's plays is itself famously subject to debate. Leaving aside the idea that Shakespeare was a pseudonym for the Earl of Oxford or Francis Bacon, several others are now known to have co-written with Shakespeare without being credited in the Folios: https://www.shakespeare.org.uk/explore-shakespeare/podcasts/60-minutes-shakespeare/shakespeares-collaborations/. From the perspective of modern academic publication ethics, this was unacceptable ghost authorship!
For the keen, here's an essay by Janet Clare on authorship and Shakespeare that explores how the concept of authorship has changed: https://oajournals.fupress.net/index.php/bsfm-jems/article/view/6985/6983. Though it discusses theatre of the early-modern period, watch out for parallels to modern research with the responsibilities of authorship, ghost and gift authorship, plagiarism accusations, the relationship between performed and published works mirroring conference papers and journal articles, and acting companies standing in for consortia.
So, good night unto you all.
The full list of daily challenges for our Midsummer Authorship Challenge is available here.