UKRIO Equality, Diversity, & Inclusion Webinar 20 April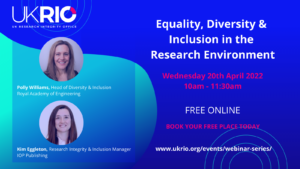 How important is Equality, Diversity & Inclusion to your research environment?
How much of a role does EDI play?
Be sure to BOOK your FREE place, to join the discussion.
Wednesday 20th April 2022
10am – 11:30
Speakers
Polly Williams, Head of Diversity and Inclusion, Royal Academy of Engineering
Polly will share how the Royal Academy of Engineering is promoting Diversity & Inclusion (D&I) in the research environment.
Kim Eggleton, Research Integrity & Inclusion Manager, IOP Publishing
Kim will give an overview of the current issues concerning diversity in research publishing.
Share this webinar with your colleagues and click here to book your place!