Join UKRIO's Advisory Community
UKRIO is actively recruiting volunteers for our charity's Advisory Community.
We are seeking people with experience in providing support and guidance to individuals or institutions on good research practice, research culture and related issues.
This could be as part of a formal role, through undertaking leadership, mentoring or other peer-support activities, or at the grassroots level.
Joining our Advisory Community offers an excellent opportunity to contribute to UKRIO's shaping of research integrity policy in the UK and to help people faced with challenges to good research practice.
The work of our Advisory Community
Our Advisory Community informs and supports the work of UKRIO, helping ensure we are in touch with the needs and concerns of the research community.
Its members play a vital and varied role in supporting the activities of our charity. Their perspectives inform our strategy and planning, and shape our work programme. They draw on their skills and experience to help UKRIO offer expert guidance on the best ways to support good research practice, improve research culture and systems, and address poor practice and misconduct.
Our Advisory Community is made up of people from a wide variety of backgrounds in research – whether from higher education, the NHS, private sector, charity/ third sector or elsewhere:
Researchers, from any discipline of research
Senior managers of research institutions
Professional services staff / research administrators and managers
Editors of academic journals and other specialists in publication ethics
Statisticians
Representatives of regulatory or funding agencies
Representatives of learned societies or professional bodies
Specialists in research ethics
Research integrity officers and others working on matters of good research practice, research culture and related issues, whether in a formal role, as part of peer-support activities, or at the grassroots level
UKRIO also recruits lay persons and legal professionals to act as Advisers.
We welcome applications from persons at any stage in their research or related career, and would particularly welcome applications from early-career researchers. 
UKRIO's commitment to a diverse and inclusive community is embedded in our volunteer recruitment processes.
How to join our Advisory Community
The many successes of our charity could not have been achieved without the generous and expert support of volunteers, and we would welcome you joining us.
Nearly all of our Advisers' work is conducted remotely, and we ensure that they are not overburdened by allocating enquiries carefully and proportionately. UKRIO recognises the invaluable contribution made by the people who volunteer to support our charity; Advisers are always free to decline assignments without losing the goodwill of the organisation.
Advisers give their time to UKRIO pro bono and are not employees of the charity. We pay reasonable expenses incurred by Advisers in the course of supporting UKRIO.
If you would be interested in joining our volunteer Advisory Community, please send a CV and a brief summary of your experience with issues of research integrity to info@ukrio.org. All enquiries will be treated with the strictest confidence.
About UKRIO
The UK Research Integrity Office is the UK's most experienced research integrity organisation. A registered charity, we were created in response to longstanding and growing concerns about the reliability of research.
Since 2006, we have provided independent and expert support to help enhance good research practice, address mistakes, questionable practices and fraud, and improve the culture and systems of UK research.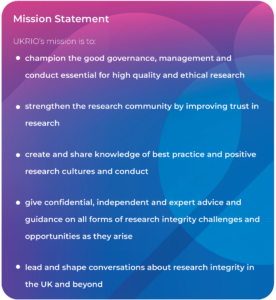 Download our strategy for 2022-25 here: https://ukrio.org/wp-content/uploads/UKRIO-Strategy-2022-25-web-version.pdf