Barriers to dealing with research misconduct: A 2023 review by UKRIO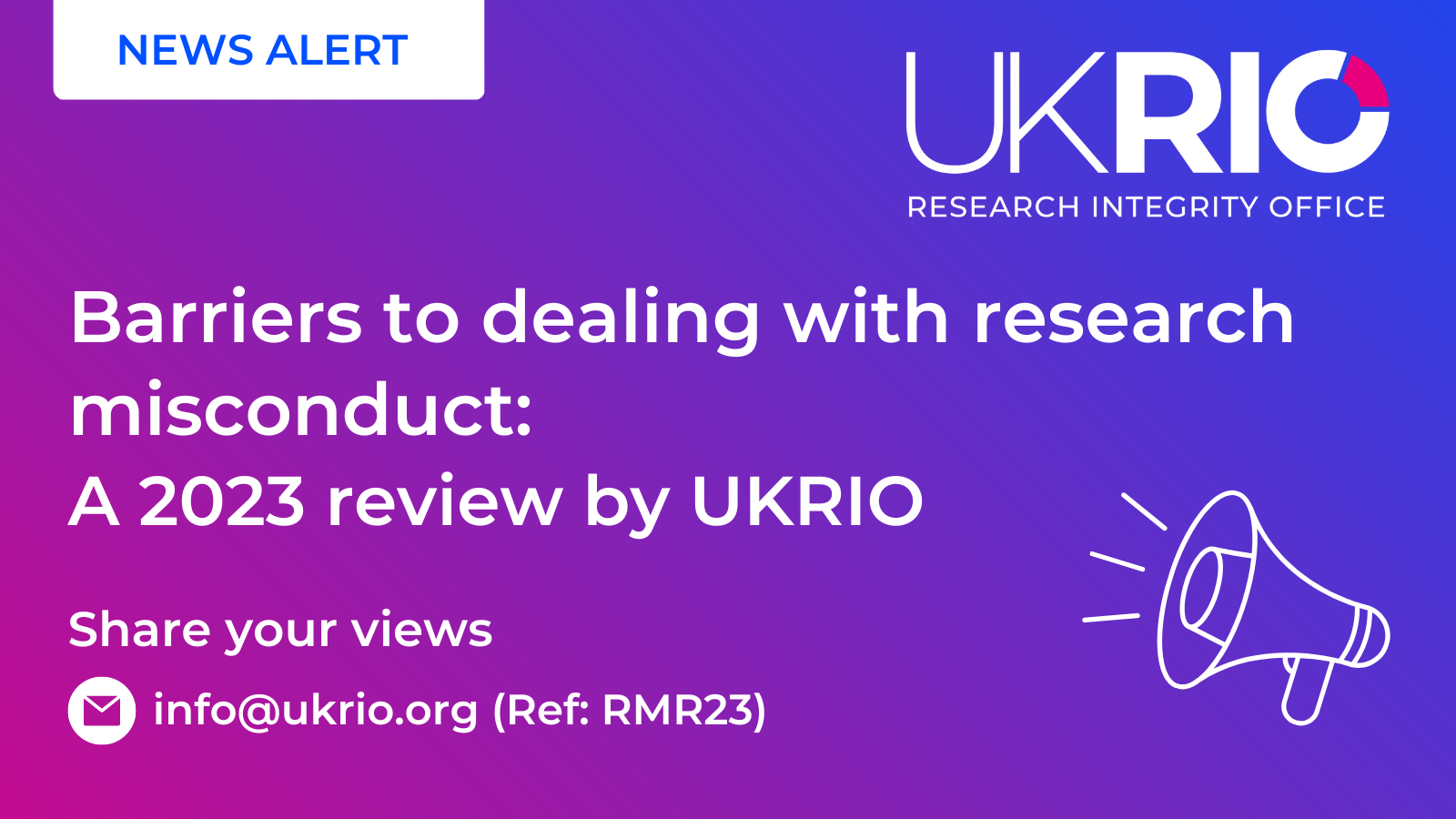 Five years ago, the House of Commons SciTech committee identified a gap in the regulation and monitoring of research misconduct investigations.
This review, convened by the UK Research Integrity Office (UKRIO), will look at the tensions and repercussions faced by organisations when they investigate possible cases of research misconduct and communicate about them. Through consultation with institutions and practising researchers, it will identify ways that these tensions are, or can be, overcome.
An independent charity, UKRIO primarily provides guidance for good practice in research, to reduce the likelihood of research misconduct in the first place – guidance that will be updated in light of this review. Where warranted, UKRIO is also willing to convene the right people to get serious and persistent integrity problems resolved.
This review is one of those times. It will propose the actions that institutions should take and return to the SciTech committee in Autumn 2023 with a sharper statement of these and any actions needed in government and regulatory monitoring.
The review panel will be chaired by Tracey Brown OBE, Trustee of UKRIO. Its progress and opportunities to contribute will be found on the misconduct review webpage ukrio.org/our-work/ukrio-research-misconduct-review-2023/.
Share your views
The following questions indicate the scope of the review. We welcome correspondence on these from employers, researchers, whistle blowers, funders and any other interested parties.
Please contact us at info@ukrio.org by the end of March, quoting the reference number 'RMR23'.
Who should be informed about potential research misconduct or a finding of research misconduct?
When making appointments, do employers have sufficient and reliable information about previous research misconduct? What information should be available?
When awarding grants or licences, do organisations have sufficient and reliable information about previous research misconduct? What information should be available?
Do journals have sufficient access to information about research misconduct investigations involving authors of published or submitted papers?
How do institutions communicate warnings of potential misconduct to other parties, such as journals, funders and other research organisations?
How do institutions communicate a finding of research misconduct to other parties? Which other parties are informed?
In what ways does concern about researchers' reputations affect institutions' willingness to tell others about a case of research misconduct?
Are investigations or communications inhibited by the possibility of action for defamation?
Are research misconduct whistle blowers inhibited by potential repercussions, such as action for defamation?
Are there tensions between employment law and investigations or communications about research misconduct?
What would reduce an institution's concern that its reputation will be damaged by publicity about misconduct investigations?
What external guidance or professional advice do institutions seek when handling cases of possible misconduct?
What financial costs are incurred by institutions in investigating research misconduct?
Is there scope to reduce costs and the diversion of resources? Would this lower the threshold for investigation?
What are the funding repercussions of research misconduct cases?
How do institutions share combined information about their reports, investigations and findings in research misconduct? Why does this vary between institutions and disciplines?