Correcting the scholarly record, and dispelling myths around corrections​
Wednesday 29 September 2023 10:00-11:00 BST
"Journals … must have mechanisms for correcting, revising or retracting articles after publication" – Committee on Publication Ethics
A core part of publication ethics is that when published research is affected by errors or misconduct, this must be corrected. This webinar aims to explain both the process of fixing errors and misconceptions about corrections, focusing on journal articles, and to answer the questions:
Who decides what needs to be corrected?
What are the responsibilities of editors, journals, research institutions, and authors?
How are corrections done and what form do they take?
How do readers know when work has been corrected?
What are the barriers to correcting the scholarly literature – and, hopefully, the solutions to these problems?
Our expert speakers drew on their experience in handling corrections and developing editorial policies.
SPEAKERS
Correcting the scholarly record, and dispelling myths around corrections Lauren Flintoft, IOP Publishing and Gráinne McNamara, Karger Publishers. You can find there slides here. Click here to view the video.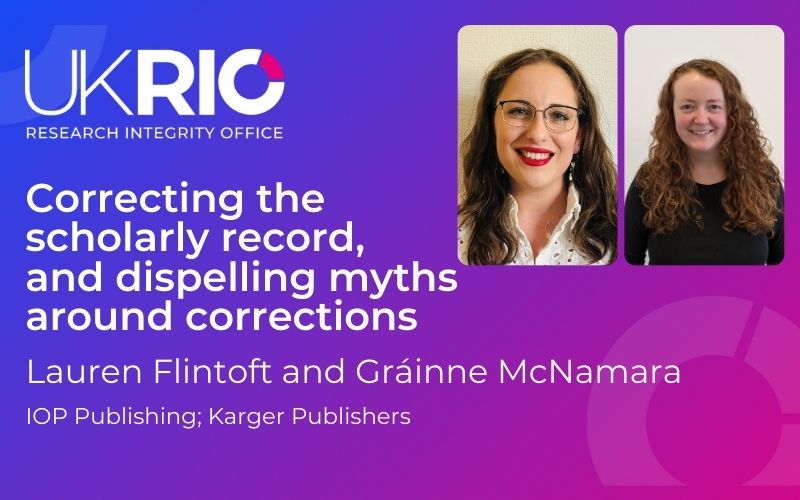 SPEAKER BIOGRAPHIES
Lauren Flintoft, Research Integrity Officer, IOP Publishing
At IOP Publishing, Lauren is involved in helping manage the growth of the ethics case load, identifying and implementing preventative measures, and supporting projects across the business to ensure compliance with industry guidelines. In addition to these responsibilities, she is the internal Product Manager for the plagiarism software's IOPP use across all its products, Crossref Similarity Check and iThenticate. Her position as Chair of the Crossref Similarity Check working group further supports this work. Prior to joining IOPP in 2021, she spent over 3 years at Emerald Publishing in their Legal Department as a Rights Executive. She has been a Chair of ISMTE's Education and Standards Committee for a number of years, and is a Member of NISO's Credit Taxonomy Committee; which aims to support the standard and drive adoption.
Gráinne McNamara, Karger Publishers
Gráinne was awarded her PhD in Integrative Neuroscience from Cardiff University in the UK. After that, she spent three years working in research in Cardiff University and Imperial College London before moving to work in research integrity in book and journal publishing. She is now the Research integrity / Publication Ethics Manager for Karger Publishers and leads a team responsible for developing research integrity policies and conducting investigations for all Karger journals.
Karger Publishers is a family run publisher with over 130 years of experience publishing in Health Sciences. Publishing over 100 peer reviewed journals and 9000 books we are connecting and advancing health sciences with a wide variety of services throughout the research cycle for patients, researchers and health care professionals.