UKRIO is holding bi-monthly webinars on research integrity and related issues. Speakers from UKRIO and invited experts will explore topics such as publication ethics and authorship; research data; implementation of the Concordat to Support Research Integrity; research ethics; consent in research; and research integrity training.
Our webinars are open to all and are free to attend. Dates and topics for future webinars will be announced periodically. For further information on these free events, please check this page regularly.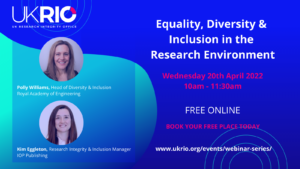 UKRIO Research Integrity Webinar:
Join our webinars in the increasingly popular online event series from UKRIO on research integrity and related issues! The next webinar in the series of bi-monthly sessions will be:
Equality, diversity and inclusion (EDI) in the research environment
20th April 2022, 10 – 11.30 am
Book your free online place here. 
About this event
The next webinar in the series of bi-monthly sessions from the UK Research Integrity Office will be focused on equality, diversity and inclusion in the research environment.
This webinar is aimed at research students; early-career researchers; and team leaders, principal investigators, managers, supervisors, research integrity officers and others who wish to make sure their are informed about issues of good research practice.
Speakers
Polly Williams, Head of Diversity and Inclusion, Royal Academy of Engineering
In this talk Polly will share how the Royal Academy of Engineering is promoting D&I in the research environment.
Kim Eggleton, Research Integrity & Inclusion Manager, IOP Publishing
Kim will give an overview of the current issues concerning diversity in research publishing.
Past webinars videos and slides
We have been holding our research integrity webinars since May 2020. To see videos and presentation slides from previous webinars, click here.
New videos and slides are added regularly, so do check back for updates.
Terms and conditions for UKRIO event bookings can be found here.