Annual Conference 25 & 26 May 2022: open for booking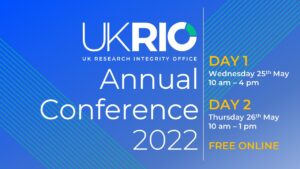 Our 2022 virtual Annual Conference, taking place Wednesday 25th & Thursday 26th May 2022, is open for booking. To book your free place, click here.
The theme of our charity's 2022 conference is 'Good research practice: culture, environment and sustainability'. Building on the successes of our bi-monthly research integrity webinars and last year's conference, this event will be entirely online and will be free to attend. If you'd like to attend, click here.
Sir Patrick Vallance, Government Chief Scientific Adviser, is confirmed to open the second day of the conference, sharing his perspective on good research practice.
For more information on our charity's 2022 Annual Conference click here.
Virtual research integrity events
Webinars
UKRIO is holding webinars on research integrity and related issues. Speakers from UKRIO and invited experts will explore topics such as publication ethics and authorship; research data; implementation of the Concordat to Support Research Integrity; research ethics; consent in research; and research integrity training. Our webinars are open to all and are free to attend.
Videos and slides from past webinars
We have been holding our monthly research integrity webinars since May 2020. To see videos and presentation slides from previous webinars, please visit this page. New videos and slides are added regularly, so do check back for updates.
Future events: workshops on research integrity
UKRIO holds periodic workshops on specific aspects of research integrity. The workshops have a practical focus and cover promoting good practice within an organisation as well as responding to problems and concerns.
We will be holding the workshops primarily for those research organisations which have chosen to subscribe to UKRIO but  schedule additional events for non-subscribers if there is sufficient demand.
UKRIO welcomes suggestions on topics and issues that we might cover in our workshop programme. You can contact us using the form here.
Other events
UKRIO contributes to the national and international promotion of integrity in research. This involves discussion of our work at conferences and other events, giving lectures and case study workshops, as well as articles in academic journals and in the press. We also hold our own events to support good research practice.
Past events
Information on a selection of past UKRIO events, such as our 2021 annual conference, can be found on the Annual Conference and Training & Workshops pages.
Terms and conditions for UKRIO event bookings can be found here.