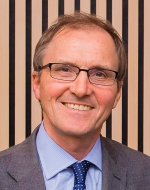 Professor Sir Ian Boyd, Chair of the UK Research Integrity Office, has been elected a Fellow of the prestigious Royal Society.
Founded in 1660, the Royal Society is a Fellowship of many of the world's most eminent scientists and is the oldest scientific academy in continuous existence. Its aim is to recognise, promote, and support excellence in science and to encourage the development and use of science for the benefit of humanity.
Sir Ian has been the Chair of UKRIO since 2019. He is a zoologist, environmental and polar scientist, and former Chief Scientific Adviser at the Department for Environment, Food and Rural Affairs (DEFRA). He is a professor of biology at the University of St Andrews, where he is also an adviser to the Principal and was Director of the Scottish Oceans Institute. He also created the Marine Alliance for Science and Technology for Scotland. Before this he spent 14 years leading research at the British Antarctic Survey. Recently he has been an attendee at the Science Advisory Group for Emergencies (SAGE) which was established to provide scientific advice to the UK government during the COVID-19 pandemic.
He has degrees from the Universities of Aberdeen, Cambridge and Exeter and has received a number of awards for his research and leadership. He is a recipient of the Polar Medal and he was knighted in the 2019 Birthday Honours for services to science and economics on food and the environment. As well as being a Fellow of the Royal Society, he is also a Fellow of the Royal Society of Biology and the Royal Society of Edinburgh.