The UK Research Integrity Office (UKRIO) has appointed Professor Sir Ian Boyd FRSB FRSE as its new Chair He takes over from Professor Sir Bernard Silverman, who is standing down after 5 years in the role.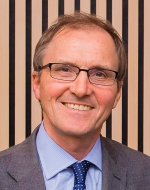 Sir Ian is the Chief Scientific Adviser at the Department for Environment, Food and Rural Affairs (DEFRA) and a professor of biology at the University of St Andrews. In the past he has been Director of the Scottish Oceans Institute at the University of St Andrews. He is a graduate of the Universities of Aberdeen, Cambridge and Exeter, and has been recognised through a number of awards for his research in marine and polar science. He was knighted in the 2019 Birthday Honours for services to science and economics on food and the environment.
Sir Ian said: "Integrity is at the heart of ensuring that research can be trusted. As shown by the recommendations in the recent report by the House of Commons Science and Technology Committee, the UK Research Integrity Office is an increasingly important part of the research community. I look forward to helping it deliver its role in supporting the important work done by researchers wherever they are. I am especially grateful to Sir Bernard Silverman for his leadership of UKRIO."
Under Sir Bernard's leadership, UKRIO achieved a step change in its activities. It is now supported by almost 100 research institutions to provide independent advice on issues of research integrity. UKRIO has been working with UK Research & Innovation, Universities UK and others to explore how the Committee's recommendations might be implemented. UKRIO will continue to use its unique expertise to inform UK policy and practice on research integrity.
Marc Taylor, Vice-Chair of UKRIO said: "Since Sir Bernard became our Chair, UKRIO has gone from strength to strength. In 2018 UKRIO received endorsements from the House of Commons Science and Technology Committee and the UK Government. We are delighted that Sir Ian Boyd will now take forward UKRIO's vital role in maintaining the international reputation of UK research, and public trust in it."
For further information, please contact us.