2022 New Year Research Integrity Challenge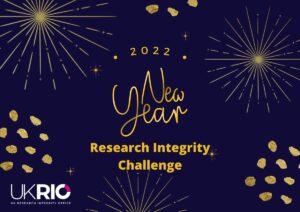 HAPPY NEW YEAR!
We would like to invite you to join us for a New Year Research Integrity daily challenge, starting on Tuesday 4th January 2022 running through to Monday 31st January 2022.
There are a total of 20 challenges to complete on the chart. It provides a great opportunity to learn and refresh your knowledge, as well as, encourages conversations with colleagues.
If you would like to talk to us about any of the subjects in the challenge, please get in touch via info@ukrio.org.