It's beginning to look a lot like Christmas…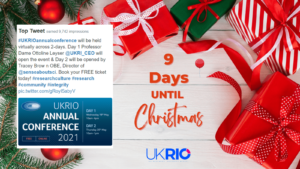 As Christmas is fast approaching join us as we countdown to Christmas day. UKRIO will be looking back at our Top posts over the last 12 months…
So far in at number.9 is April 2021 Top post…
When we announced that our registration is open the excitement continued to grow and grow as the #UKRIOconference2021 was drew closer  click here to see why!  
SAVE THE DATE for our annual conference 25/26 May 22!
If you missed any of our previous Christmas countdown posts visit our twitter page.